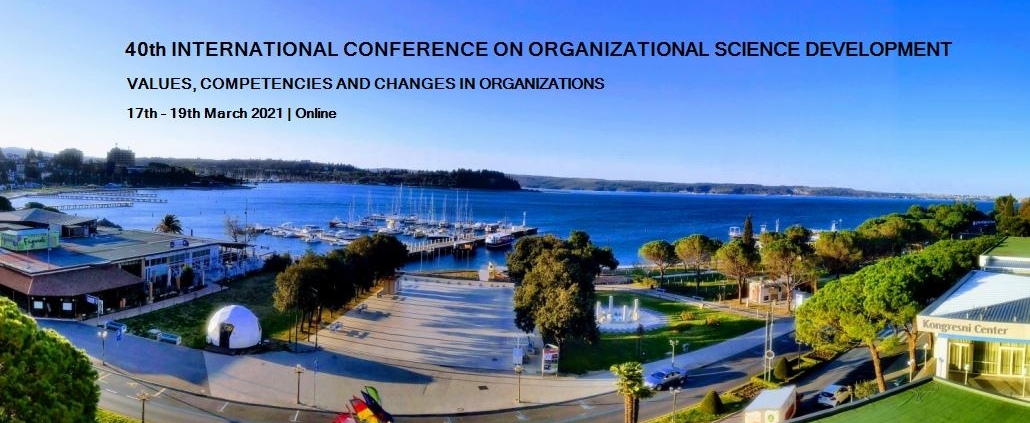 Dear participants of the 40th International Scientific Conference on the Development of Organizational Sciences,
This year continues with experiences and challenges that impose unconventional procedures and activities. Considering the current situation in Slovenia and internationally, our participants' wellbeing is our responsibility and priority.
As the situation in society is still uncertain and not very optimistic about the possibility of holding a conference, we decided to hold the 40th Conference on the Development of Organizational Sciences in 2021 in a way that offers a stable and secure execution of a joint event.
The Conference entitled "Values, competencies and changes in organizations" will be held from 17th till 19th of March 2021.
All the essential activities planned will be carried out online. After the official opening, various thematic sections will enable the participants to present their papers. Round tables and other events will be scheduled to complete our content-rich program. We hope you will be able to join us in the e-environment. The proceedings with the papers that have successfully passed the review procedure and were presented at the Conference will be published after the Conference. Given that the Conference will be held in a two-day program and online, we decided to reduce the registration fee for all participants to € 50 without VAT. You will receive all information regarding the payment after the confirmation of participation from the Center for Education and Counseling.
The event details and the program will be sent out at the beginning of March 2021. Consider this as an informative message so you can book your time. We believe that together we can be successful, efficient, and able to overcome the obstacles posed by current circumstances.
Book the appointment in your calendar from 17th till 19th of March 2021. Do not hesitate to contact us in case of any additional questions at the following e-mail address: cis.fov@um.si.
For more information, please visit our website: http://konferenca.fov.um.si/en/homepage/
As a Chair of the Program Committee, I look forward to meeting you at the Conference,
Assoc. prof. dr. Polona Šprajc
Programme Committee Chair
https://konferenca.fov.um.si/wp-content/uploads/2021/02/konf-eng-2.jpg
433
1030
admin
https://konferenca.fov.um.si/wp-content/uploads/2019/07/logo-web-1-1030x198.png
admin
2021-02-22 11:14:34
2021-02-22 13:51:21
40th International Scientific Conference Will Be Held Online / from 17th to 19th of March 2021